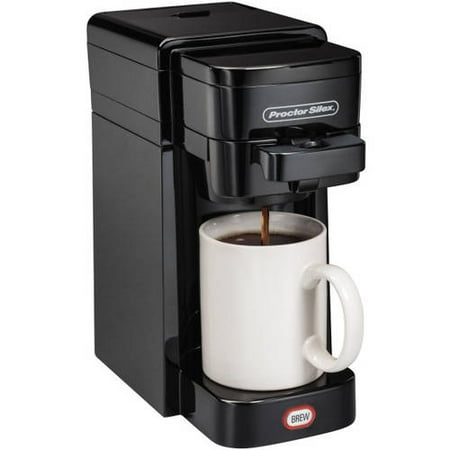 The Proctor Silex Single Serve Coffee Maker brews a fresh 10 ounce cup of coffee anytime you need it. The flexible design makes it compatible with single serve K-Cup* packs, but offers you the option of using ground coffee for additional cost savings.
Compatible with any K-Cup®* pack10 oz. capacity
Compact design
Auto shutoff after brew cycle complete
Illuminated brew switch
Mug not included*K-CUP is a registered trademark of Keurig Green Mountain, Inc. Use of the K-CUP trademark does not imply any affiliation with or endorsement by Keurig Green Mountain, Inc.
Customer Reviews
Great for small spaces
This coffee maker is compatible with ®Kcups. You can also use your own ground coffee or loose leaf tea in it. It comes with the small basket with the piercer for the Kcups as well as a larger basket for making your favorite flavor with your own grounds. It's a rather compact machine, so it won't take up much room on your counter. It is very easy to use and the instructions are quite simple. Because it is a single serve unit, it will only hold up to 10 ounces of water at a time. You simply use the mug/cup that you are going to drink it out of to put the exact amount of water into the reservoir, put the cup under the spout, put your Kcup or ground coffee in the basket and press the brew button. The machine does the rest. In approximately two minutes it brews your beverage. There should be no chance of overflow, etc., because you have put in the exact amount of water for your mug. It's great for a personal coffee brewer. The only drawback that I could see to this machine is if you wanted to fill a travel mug, which is usually bigger than 10 ounces, due to the fact that you have to let the machine cool for at least two minutes before the next beverage (or to finish filling the travel mug) and the fact that you can't choose the darkness or strength of your brew. Other than that, I really like this brewer. Personally, I don't drink coffee, but the Kcups come in hot chocolate and different flavors of tea. I also have loose leaf tea that I will be trying with this machine. Anyway, long story short, I would recommend this single serve coffee maker. Thumbs up!craftylady1957
Cute and highly functional
This K-cup coffeemaker is the bare bones of coffeemakers with absolutely no extra bells or whistles! The only addition it has is a brew converter, so that you can brew cups with regular coffee grounds. You use the cup you are going to brew into as the water measuring tool. There is a minimum and maximum level indicator in the tiny reservoir at the back. After placing a K-cup (or ground filter) in the front of the machine you push a small button on the front and wait. It takes four to six minutes to complete the brew cycle and it makes odd, loud noises while brewing. The sounds are so strange and noisy that the first time my daughter used the machine she thought something was wrong, but they seem to be just part of the regular function, so they're nothing to worry about. It's that simple. That's it, that's all you need to know, except you do also need to be aware that once the brew button is pushed there is no way to turn it off again until it is done. I'm not exactly sure why, but even unplugging it will not stop the process. You also need to know that if you use the brew basket option there may be tiny bits of grounds in the bottom of your cup. I tried to fix this by using a cupcake liner as a filter, but that was an utter failure as it was not porous enough to allow the coffee through. On the whole, I love this machine, simply because it is not complicated!VBSGuru
Very Basic one person coffee maker
There exists a plethora of coffee making appliances. You can spend hundreds of dollars on devices that do everything thing short of delivering your morning cup of joe to your bedside. This Proctor Silex Single-Serve brewing system falls at the opposite end of the spectrum. This unit is designed for the person looking for a single cup of coffee. Nothing fancy, just coffee. This machine accepts all varieties of K-Cup beverages (now including soups, hot cocoa and more). You can also use the supplied reusable filter basket to make standard ground coffee - still one cup at a time.

I decided to take the coffee maker to the office. I can have it hang out at my desk and make coffee for myself the way I like it instead of the strong enough to drink with a fork brew the rest of the crew likes. It is small enough that I can toss it in a drawer when not in use. As a result of seeing the unit in action, two co-workers have picked up their own Proctor Silex machines.

There are a number of reviews out there that claim that all K-Cups are not compatible with this coffee maker. While I cannot say that we tried every single brand K-Cup out on the market, but I think I tried a representative cross section of product. All of the cups I tried worked without issue. I have included a picture that compares the holes made by the Proctor Silex machine with those made by a famous manufacturer. You can easily see the difference; the Proctor Silex unit creates a much larger hole. While the size of the hole seems to make no difference in the quality of the brew, the larger cutting surface of the knife in the Proctor Silex machine could potentially cut into the bagged coffee grounds in a K-Cup pod. We experienced zero problems in this area.

The basket also works well. A slightly coarser grind than usual works best with the basket. You can also use a section of a larger coffee filter to line the basket so you can use ultra fine grind European style coffee grounds.

Pros:
-Compact
-Simple to Operate
-Can Brew up to a 12 oz cup of coffee
-K-Cup Compatible
-Coffee grounds / filter basket compatible
-Inexpensive (typically under $30)

Cons:
-Not compatible with most thermal cups (or even tall coffee cups/mugs)
-No visible water level indicator
-Only holds 12 ounces of water at a time
-Very Short cord (make sure you have a heavy duty extension cord if you use one)
-Not terribly fast (instructions say 4 minutes per brew - real world times are around 3 minutes)

Overall, the Proctor Silex Single Serve coffee maker is perfect for the single coffee drinker. I would certainly recommend it for anyone looking for an in-expensive K-Cup based coffee maker.Campmaster55
You may also be interested in