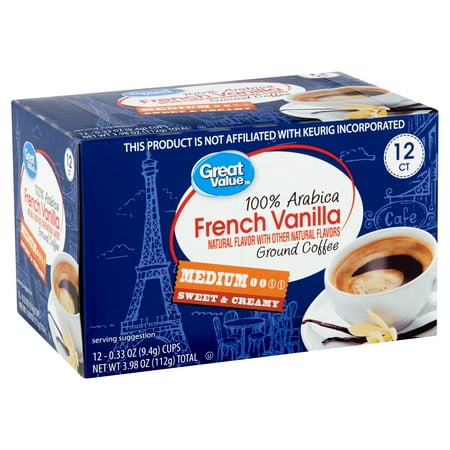 Great Value French Vanilla Medium Ground Coffee is a robust blend that combines the uplifting aroma of vanilla with the classic taste of freshly ground coffee. Great Value French Vanilla Flavored comes in 12 CT single serve coffee pods that are a convenient way to enjoy a quick cup of coffee any time of day. Great Value French Vanilla offers you a rich coffee experience and fills the room with the aroma of freshly-baked sugar cookies. Made with 100% Arabica coffee, this premium blend is medium roasted and perfectly balanced with a smooth finish. This 3.98oz. box contains 12 single serve pods. Compatible with all major brewing systems, these single serve cups deliver well-balanced notes of vanilla and butterscotch. Drink it hot while appreciating the rich aroma or add ice to create a refreshing drink. This rich, creamy vanilla flavored blend will surely become your favorite and will leave you asking for more. Like a dream in a cup, Great Value French Vanilla Medium Ground Coffee's fragrant and full vanilla flavor and medium roast make it an alluring treat from dawn to dusk.Great Value products provide families with affordable, high quality grocery and household consumable options. With our wide range of product categories spanning grocery and household consumables, we offer you a variety of products for your family's needs. Our products are conveniently available online and in Walmart stores nationwide, allowing you to stock up and save money at the same time.
Compatible with major brewing systems12 single-serve cups
Ready to use
Customer Reviews
Good Flavored Coffee
I purchased this for the first time because I got Keurig for Christmas and this was a first time. This coffee is flavorful and good waiting until I can get the larger box I like it better than my favorite Vanilla flavor coffee. Would purchase again!!!101010
Great Value Vanilla Natural 12 Single Serve Cups
Aside from the GREAT VALUE price it tastes GREAT! My neighbor immediately wanted to know what brand and the cost! Now we are both fans. My only request would be,
MAKE MORE FLAVORS!!!! Very happy customer!
Sit easy
This has a smooth taste like the othersmamaw2
You may also be interested in