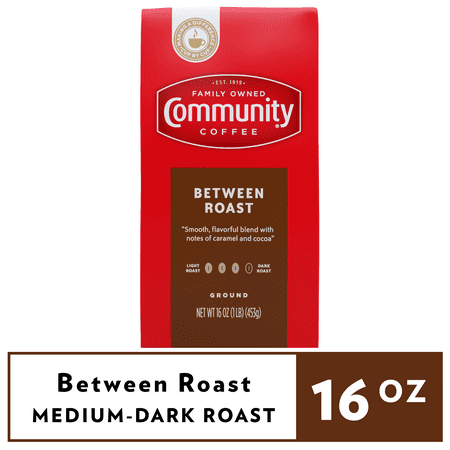 Our Between Roast is designed to highlight coffee beans known for their sweeter profile. After harvesting, the coffee is allowed to dry naturally in the sun, locking in flavor unique to South and Central America. We roast this coffee to a medium-dark color to bring out notes of caramel and cocoa, giving you the taste of your favorite café right at home.
Customer Reviews
Taste and availability
This is a great tasting coffee without bitter aftertaste. We have used it for years and love having it available by mail. Thanks Community Coffee.
Full body coffee!!
I have tried about 6 or 7 different grounds of Community coffee, and I cannot decide which one is my favorite!! All are full of good coffee flavour, never bitter, between roasts is a bit stronger than breakfast blend or hotel blend but everyone I try is as good as the last one!! So I've decided to continue ordering different blends and just enjoy them all! There is a tiny taste difference in some but I love them all and I consider myself somewhat of a coffee expert as far as tasting goes.Nanny
Enjoying the deeper taste
I'm not a coffee snob - I just enjoy a great cup in the morning. I have been drinking the Breakfast Blend for many years, but decided I wanted a deeper coffee flavor, but wasn't sure what to try. Finding the Between Roast sounded like a good start in my search. It really fits my need for a richer coffee that is not too dark or harsh...just a step up from what I was using. I just use the same amount of coffee in the same ole pot and get a richer flavor with this roast. What a wonderful find on my first try for something new.MichMari
You may also be interested in